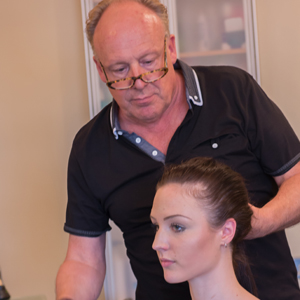 The proprietor for over thirty years. I enjoy seeing a bright, clean and efficient salon set up ready for another day, this helps provide the atmosphere to welcome staff and clientele alike.
Having started my career in the late sixties, with an apprenticeship at 'Raymond' the then society hairdresser teasy weasy. This was the stick test, training with an eye to details which has stayed with me ever since. Hairdressing is all I ever wanted to do, and my fascination with dressing hair, clean lining was the fashion – long hair elegantly swept up and big hair dressed down.
After my training, I was lucky to work at various salons in London. Working at Alan International, a chain of salons where I floated between locations, with memorable times in the hotels, Regent's park in Piccadilly and Skylane Heathrow, and the busy salons in Kensington and Wimbledon.
The 70'S saw me working locally in Surrey, with some inspirational hairstylists – Keith Follet and Jon Litchfield, both salon owners with pedigrees from top salons such as Sassoons/Carita and House of Leonard.
Arriving at Walton Salon as a staff member, following a spell of hairdressing in South Africa, I began building a clientele and then joined the salon owner in a business partnership. The salon grew from strength to strength during the 80's. My business partner retired, and this is when the decision was made to add a beauty side to the business, and Walton's Salon grew even further, with additional team members joining throughout the nineties.
I have had great support from a long standing team of dedicated staff over the years and we continue to grow and develop, and even after all these years I still get an amazing buzz.